Mixxx Numark Mixtrack 3 Map
Numark Mix Track Virtual Dj
Debug [Controller]: MidiPresetFileHandler: Output mapping parsing complete.

Debug [Controller]: Loading controller preset from '/home/bill/.mixxx/controllers/MixTrack_II_MIDI_1.midi.xml'

Debug [Controller]: MidiControllerPresetFileHandler: Input mapping parsing complete.

Debug [Controller]: MidiPresetFileHandler: Output mapping parsing complete.

Debug [Controller]: Opening controller: 'MixTrack II MIDI 1'

Debug [Controller]: PortMidiController: Opening MixTrack II MIDI 1 index 10 for input

Debug [Controller]: PortMidiController: Opening MixTrack II MIDI 1 index 9 for output

Debug [Controller]: Controller in script engine is: 'MixTrack II MIDI 1'

Debug [Controller]: Applying controller preset..

Debug [Controller]: ControllerEngine: Loading & evaluating all script code

Debug [Controller]: ControllerEngine: Watching JS File: '/usr/share/mixxx/controllers/common-controller-scripts.js'

Debug [Controller]: ControllerEngine: Loading '/usr/share/mixxx/controllers/common-controller-scripts.js'

Debug [Controller]: ControllerEngine: Watching JS File: '/usr/share/mixxx/controllers/Numark-Mixtrack-Pro-scripts.js'

Debug [Controller]: ControllerEngine: Loading '/usr/share/mixxx/controllers/Numark-Mixtrack-Pro-scripts.js'

Warning [Controller]: ControllerEngine: No ' object in script

Debug [Controller]: ControllerEngine: Executing 'NumarkMixTrackPro' . 'init'

Debug [Controller]: Connection: '[Channel1]' 'hotcue_1_enabled'

Debug [Controller]: Connection: '[Channel1]' 'hotcue_2_enabled'

Debug [Controller]: Connection: '[Channel1]' 'hotcue_3_enabled'

Warning [Controller]: Could not Disconnect connection 'NumarkMixTrackPro.onLoopChange'

Warning [Controller]: Could not Disconnect connection 'NumarkMixTrackPro.onLoopChange'

Warning [Controller]: Could not Disconnect connection 'NumarkMixTrackPro.onReloopExitChange'

Debug [Controller]: Connection: '[Channel1]' 'loop_enabled'

Debug [Controller]: Connection: '[Channel2]' 'hotcue_1_enabled'

Debug [Controller]: Connection: '[Channel2]' 'hotcue_2_enabled'

Debug [Controller]: Connection: '[Channel2]' 'hotcue_3_enabled'

Warning [Controller]: Could not Disconnect connection 'NumarkMixTrackPro.onLoopChange'

Warning [Controller]: Could not Disconnect connection 'NumarkMixTrackPro.onLoopChange'

Warning [Controller]: Could not Disconnect connection 'NumarkMixTrackPro.onReloopExitChange'

Debug [Controller]: Connection: '[Channel2]' 'loop_enabled'

Debug [Controller]: Connection: '[Channel1]' 'PeakIndicator'

Debug [Controller]: Connection: '[Channel2]' 'PeakIndicator'

Debug [Controller]: Connection: '[Channel1]' 'beat_active'

Debug [Controller]: Connection: '[Channel2]' 'beat_active'

Debug [Controller]: 'Creating output handler for [Channel2],beatsync between 0 and 0.1 to MIDI out: 0x90 0x47, on: 0x00 off: 0x64'

Debug [Controller]: 'Creating output handler for [Channel1],beatsync_tempo between 0 and 0.1 to MIDI out: 0x90 0x40, on: 0x00 off: 0x64'

Debug [Controller]: 'Creating output handler for [Channel1],keylock between 0 and 0.1 to MIDI out: 0x90 0x51, on: 0x00 off: 0x64'

Debug [Controller]: 'Creating output handler for [Channel1],beatsync between 0 and 0.1 to MIDI out: 0x90 0x40, on: 0x00 off: 0x64'

Debug [Controller]: 'Creating output handler for [Channel1],pfl between 0 and 0.1 to MIDI out: 0x90 0x65, on: 0x00 off: 0x64'

Debug [Controller]: 'Creating output handler for [Channel2],pfl between 0 and 0.1 to MIDI out: 0x90 0x66, on: 0x00 off: 0x64'

Debug [Controller]: 'Creating output handler for [Channel2],rate between -0.1 and 0.1 to MIDI out: 0x90 0x71, on: 0x64 off: 0x00'

Debug [Controller]: 'Creating output handler for [Channel1],rate between -0.1 and 0.1 to MIDI out: 0x90 0x70, on: 0x64 off: 0x00'

Debug [Controller]: 'Creating output handler for [Channel2],play between 0 and 0.1 to MIDI out: 0x90 0x42, on: 0x00 off: 0x64'

Debug [Controller]: 'Creating output handler for [Channel2],play between 0 and 0.1 to MIDI out: 0x90 0x3C, on: 0x64 off: 0x00'

Debug [Controller]: 'Creating output handler for [Channel2],beatsync_tempo between 0 and 0.1 to MIDI out: 0x90 0x47, on: 0x00 off: 0x64'

Debug [Controller]: 'Creating output handler for [Channel2],flanger between 0 and 0.1 to MIDI out: 0x90 0x64, on: 0x00 off: 0x64'

Debug [Controller]: 'Creating output handler for [Channel1],play between 0 and 0.1 to MIDI out: 0x90 0x3B, on: 0x00 off: 0x64'

Debug [Controller]: 'Creating output handler for [Channel1],play between 0 and 0.1 to MIDI out: 0x90 0x33, on: 0x64 off: 0x00'

Debug [Controller]: 'Creating output handler for [Channel2],keylock between 0 and 0.1 to MIDI out: 0x90 0x52, on: 0x00 off: 0x64'

Debug [Controller]: 'Creating output handler for [Channel1],flanger between 0 and 0.1 to MIDI out: 0x90 0x63, on: 0x00 off: 0x64'

Debug [Controller]: Loading controller preset from '/home/bill/.mixxx/controllers/Hydrogen_Midi-Out.midi.xml'

Debug [Controller]: MidiControllerPresetFileHandler: Input mapping parsing complete.

Debug [Controller]: MidiPresetFileHandler: Output mapping parsing complete.

Debug [LibraryScanner 1]: Recursively scanning library.

Debug [Main]: ControllerManager::getControllerList

Warning [Main]: WaveformRenderBackground::generateImage() - file( '/usr/share/mixxx/skins/Deere1280x800-WXGA/style/style_bg_waveform.png' ) 415 x 119 do not fit the waveform widget size 296 x 119

Warning [Main]: WaveformRenderBackground::generateImage() - file( '/usr/share/mixxx/skins/Deere1280x800-WXGA/style/style_bg_waveform.png' ) 415 x 119 do not fit the waveform widget size 294 x 119

Debug [LibraryScanner 1]: Recursive scan finished cleanly.

Debug [LibraryScanner 1]: Committing transaction on 'LIBRARY_SCANNER' result: true

Debug [LibraryScanner 1]: Committing transaction on 'LIBRARY_SCANNER' result: true

Debug [LibraryScanner 1]: verifyTracksOutside finished

Debug [LibraryScanner 1]: Marking unchanged directories and tracks as verified

Debug [LibraryScanner 1]: Marking unverified tracks as deleted.

Debug [LibraryScanner 1]: Marking unverified directories as deleted.

Debug [LibraryScanner 1]: Committing transaction on 'LIBRARY_SCANNER' result: true

Debug [LibraryScanner 1]: Scan took: 95 ms

Debug [Main]: LibraryTableModel(0x171ce90) select() took 15 ms

Debug [Main]: MissingTableModel(0x20e68f0) select() took 1 ms

Debug [Main]: HiddenTableModel(0x207fcc0) select() took 1 ms

Debug [Main]: PrepareLibraryTableModel(0x2233090) select() took 9 ms

Debug [Main]: guess the size of the window decoration

Debug [Controller]: Loading controller preset from '/usr/share/mixxx/controllers/Numark MIXTRACK.midi.xml'

Debug [Controller]: 'Numark Mix Track MIDI 1' settings found

Debug [Controller]: MidiControllerPresetFileHandler: Input mapping parsing complete.

Debug [Controller]: MidiPresetFileHandler: Output mapping parsing complete.

Debug [Main]: in VinylGainSlotApply() with gain: 1

Debug [Controller]: ControllerManager::getControllerList

Debug [Controller]: Saving preset for 'MK-249C USB MIDI keyboard MIDI ' to '/home/bill/.mixxx/controllers/MK-249C_USB_MIDI_keyboard_MIDI_.midi.xml'

Debug [Controller]: Saving preset for 'Akai MPD24 MIDI 1' to '/home/bill/.mixxx/controllers/Akai_MPD24_MIDI_1.midi.xml'

Debug [Controller]: Saving preset for 'Akai MPD24 MIDI 2' to '/home/bill/.mixxx/controllers/Akai_MPD24_MIDI_2.midi.xml'

Debug [Controller]: Saving preset for 'Akai MPD24 MIDI 3' to '/home/bill/.mixxx/controllers/Akai_MPD24_MIDI_3.midi.xml'

Debug [Controller]: Saving preset for 'MixTrack II MIDI 1' to '/home/bill/.mixxx/controllers/MixTrack_II_MIDI_1.midi.xml'

Debug [Controller]: writing script block for 'Numark-MixTrack-scripts.js'

Debug [Controller]: Saving preset for 'Hydrogen Midi-Out' to '/home/bill/.mixxx/controllers/Hydrogen_Midi-Out.midi.xml'

Debug [Controller]: ControllerEngine shutting down..

Warning [Controller]: ControllerEngine: No ' object in script

Debug [Controller]: ControllerEngine: Executing 'NumarkMixTrackPro' . 'shutdown'

Warning [Controller]: Could not Disconnect connection 'NumarkMixTrackPro.onHotCueChange'

Warning [Controller]: Could not Disconnect connection 'NumarkMixTrackPro.onHotCueChange'

Warning [Controller]: Could not Disconnect connection 'NumarkMixTrackPro.onHotCueChange'

Warning [Controller]: Could not Disconnect connection 'NumarkMixTrackPro.onLoopChange'

Warning [Controller]: Could not Disconnect connection 'NumarkMixTrackPro.onLoopChange'

Warning [Controller]: Could not Disconnect connection 'NumarkMixTrackPro.onReloopExitChange'

Debug [Controller]: Connection: '[Channel1]' 'loop_enabled'

Debug [Controller]: 'Destroying static MIDI output handler on MixTrack II MIDI 1 for [Channel1],flanger'

Debug [Controller]: 'Destroying static MIDI output handler on MixTrack II MIDI 1 for [Channel2],keylock'

Debug [Controller]: 'Destroying static MIDI output handler on MixTrack II MIDI 1 for [Channel1],play'

Debug [Controller]: 'Destroying static MIDI output handler on MixTrack II MIDI 1 for [Channel1],play'

Debug [Controller]: 'Destroying static MIDI output handler on MixTrack II MIDI 1 for [Channel2],flanger'

Debug [Controller]: 'Destroying static MIDI output handler on MixTrack II MIDI 1 for [Channel2],beatsync_tempo'

Debug [Controller]: 'Destroying static MIDI output handler on MixTrack II MIDI 1 for [Channel2],play'

Debug [Controller]: 'Destroying static MIDI output handler on MixTrack II MIDI 1 for [Channel2],play'

Debug [Controller]: 'Destroying static MIDI output handler on MixTrack II MIDI 1 for [Channel1],rate'

Debug [Controller]: 'Destroying static MIDI output handler on MixTrack II MIDI 1 for [Channel2],rate'

Debug [Controller]: 'Destroying static MIDI output handler on MixTrack II MIDI 1 for [Channel2],pfl'

Debug [Controller]: 'Destroying static MIDI output handler on MixTrack II MIDI 1 for [Channel1],pfl'

Debug [Controller]: 'Destroying static MIDI output handler on MixTrack II MIDI 1 for [Channel1],beatsync'

Debug [Controller]: 'Destroying static MIDI output handler on MixTrack II MIDI 1 for [Channel1],keylock'

Debug [Controller]: 'Destroying static MIDI output handler on MixTrack II MIDI 1 for [Channel1],beatsync_tempo'

Debug [Controller]: 'Destroying static MIDI output handler on MixTrack II MIDI 1 for [Channel2],beatsync'

Debug [Controller]: PortMidiController: Opening MixTrack II MIDI 1 index 10 for input

Debug [Controller]: PortMidiController: Opening MixTrack II MIDI 1 index 9 for output

Debug [Controller]: Controller in script engine is: 'MixTrack II MIDI 1'

Debug [Controller]: Applying controller preset..

Debug [Controller]: ControllerEngine: Loading & evaluating all script code

Debug [Controller]: ControllerEngine: Watching JS File: '/usr/share/mixxx/controllers/common-controller-scripts.js'

Debug [Controller]: ControllerEngine: Loading '/usr/share/mixxx/controllers/common-controller-scripts.js'

Debug [Controller]: ControllerEngine: Watching JS File: '/usr/share/mixxx/controllers/Numark-MixTrack-scripts.js'

Debug [Controller]: ControllerEngine: Loading '/usr/share/mixxx/controllers/Numark-MixTrack-scripts.js'

Warning [Controller]: ControllerEngine: No ' object in script

Debug [Controller]: ControllerEngine: Executing 'NumarkMixTrack' . 'init'

Debug [Controller]: 'Creating output handler for [Channel2],filterLowKill between 0 and 0.1 to MIDI out: 0x90 0x5E, on: 0x00 off: 0x64'

Debug [Controller]: 'Creating output handler for [Channel1],pfl between 0 and 0.1 to MIDI out: 0x90 0x65, on: 0x00 off: 0x64'

Debug [Controller]: 'Creating output handler for [Channel1],flanger between 0 and 0.1 to MIDI out: 0x90 0x63, on: 0x00 off: 0x64'

Debug [Controller]: 'Creating output handler for [Channel1],filterLowKill between 0 and 0.1 to MIDI out: 0x90 0x5A, on: 0x00 off: 0x64'

Debug [Controller]: 'Creating output handler for [Channel2],flanger between 0 and 0.1 to MIDI out: 0x90 0x64, on: 0x00 off: 0x64'

Debug [Controller]: 'Creating output handler for [Channel2],filterHighKill between 0 and 0.1 to MIDI out: 0x90 0x60, on: 0x00 off: 0x64'

Debug [Controller]: 'Creating output handler for [Channel2],rate between -0.1 and 0.1 to MIDI out: 0x90 0x71, on: 0x64 off: 0x00'

Debug [Controller]: 'Creating output handler for [Channel2],filterMidKill between 0 and 0.1 to MIDI out: 0x90 0x5F, on: 0x00 off: 0x64'

Debug [Controller]: 'Creating output handler for [Channel2],play between 0 and 0.1 to MIDI out: 0x90 0x42, on: 0x00 off: 0x64'

Debug [Controller]: 'Creating output handler for [Channel2],cue_goto between 0 and 0.1 to MIDI out: 0x90 0x4C, on: 0x00 off: 0x64'

Debug [Controller]: 'Creating output handler for [Channel1],cue_default between 0 and 0.1 to MIDI out: 0x90 0x33, on: 0x00 off: 0x64'

Debug [Controller]: 'Creating output handler for [Channel1],beatsync between 0 and 0.1 to MIDI out: 0x90 0x40, on: 0x00 off: 0x64'

Debug [Controller]: 'Creating output handler for [Channel1],filterHighKill between 0 and 0.1 to MIDI out: 0x90 0x5C, on: 0x00 off: 0x64'

Debug [Controller]: 'Creating output handler for [Channel1],rate between -0.1 and 0.1 to MIDI out: 0x90 0x70, on: 0x64 off: 0x00'

Debug [Controller]: 'Creating output handler for [Channel1],filterMidKill between 0 and 0.1 to MIDI out: 0x90 0x5B, on: 0x00 off: 0x64'

Debug [Controller]: 'Creating output handler for [Channel1],play between 0 and 0.1 to MIDI out: 0x90 0x3B, on: 0x00 off: 0x64'

Debug [Controller]: 'Creating output handler for [Channel2],beatsync between 0 and 0.1 to MIDI out: 0x90 0x47, on: 0x00 off: 0x64'

Debug [Controller]: 'Creating output handler for [Channel2],pfl between 0 and 0.1 to MIDI out: 0x90 0x66, on: 0x00 off: 0x64'

Debug [Controller]: 'Creating output handler for [Channel2],cue_default between 0 and 0.1 to MIDI out: 0x90 0x3C, on: 0x00 off: 0x64'

Debug [Controller]: 'Creating output handler for [Channel1],cue_goto between 0 and 0.1 to MIDI out: 0x90 0x4A, on: 0x00 off: 0x64'
Numark Controller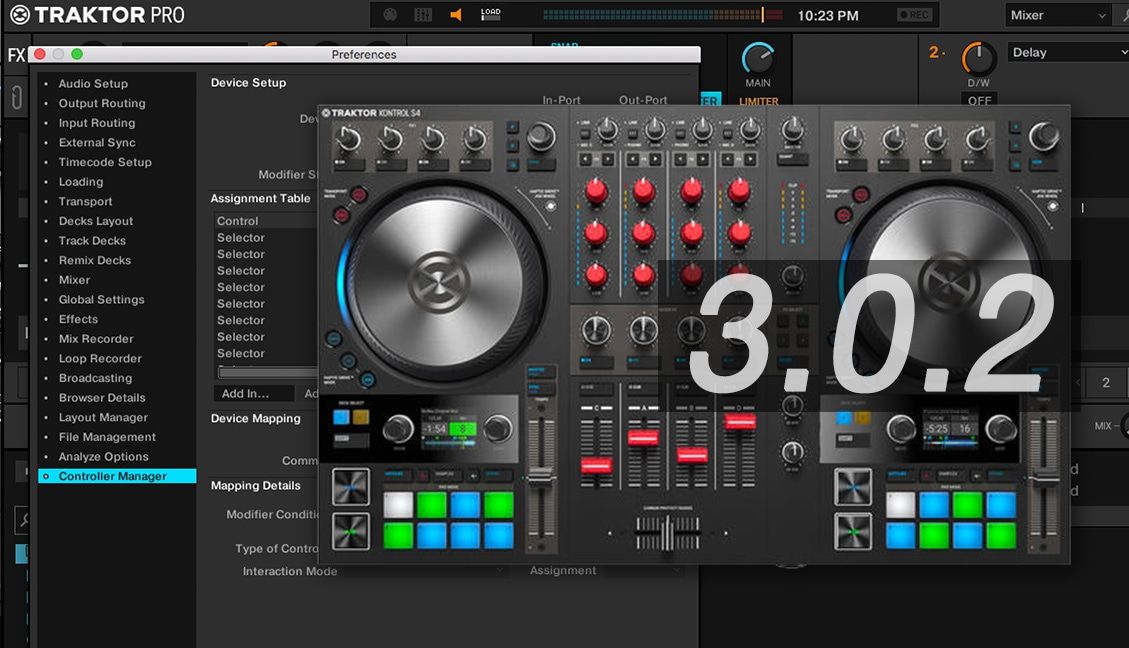 Numark Mixtrack 3 Setup
Okay, I read through the wiki. I did quite a bit of editing to make the language and formatting more concise and easier to navigate. I haven't really dug into the code yet, but I see that, wow, there's a lot of it! Numark Mixtrack 3 is bundled with VirtualDJ 8 LE (Limited Edition). The Limited Edition has no time limit in use, and the Mixtrack 3 will control VirtualDJ based on the pre-assigned. Dec 22, 2014 I show you in this video how to setup the numark mixtrack pro with de mixxx software, this software is specialy design for linux OS, but also exist for windows and mac. The download link it's here. Numark (Account) Sign out; Log in or Sign up. Numark employees are here to help. LEDs for Mixxx on the Mixtrack 3? Edit Subject. In VDJ8, the Play, sync, and cue buttons all light up as well as the pads and volume meter. You'll need to manually map the controller to the Mixxx software or look for a mapping from Mixxx. Please post on. May 24, 2012 How to map a MIDI jog wheel to scratch in Mixxx PegasusRPG. Mapping a MIDI controller's jog wheel to scripted scratching and pitch bend functions starting from nothing using Mixxx.
Garageband for windows 10 free download. Click "Next or Accept" to proceed in the installation and enjoy the music composing app.Also, Read –Watch this full tutorial of how you can install Mac OS on your PCIt is very important you watch the whole tutorial in order to install macOS High SierraIntel-based Processor: If you are running an Intel processor-based PC, then I would recommend you to go for VMware method only.AMD-V: If you are an AMD user, you already must know that not many AMD-processors support AMD-V (AMD Virtualization) because it is a major factor to run a Virtual-based OS on your Windows PC.
This resulted in low-quality recordings plagued by 'crosstalk' and other technical issues. How to record guitar on garageband ipad 7. The tiny Apogee Jam, although slightly more expensive than some of these cheaper options, uses the iPhone/iPad's dock connector for a much higher quality data transfer. In simple terms, this allows for a much higher quality recording. The first generations of devices designed to allow you to record electric guitars through your iPhone shared a common flaw - they used the analog audio-in via the phone's headphone jack. With the Apogee Jam, you can plug your electric instrument into one end of the unit via a standard connect 1/4' cable, and into the other end plug your iPhone/iPad using the provided adapters.